CLEAN, DRY, WITH LITTLE DUST ABRASIVE CLEANING
ABOUT US

Sponge Blasting uses a unique Sponge-Jet Inc. (USA) technology to provide excellent quality abrasive cleaning and surface preparation in the Baltic States. We remove old paint, heavy dirt and corrosion from metal, plastic and wood. We create a suitable profile for the new color to last.

The technology makes it possible to create up to 99% less dust compared to traditional abrasive cleaning, reduces downtime and the impact on the environment. More information about the technology can be found at www.spongejet.com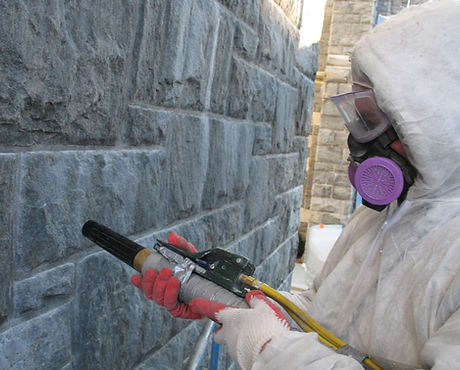 ABRASIVE CLEANING
Our technology effectively removes old paint, graffiti, heavy dirt and chemicals from various surfaces.

The cleaning is dry, with little dust and ricochet, so we can carry out work in sensitive areas and without damaging the surroundings.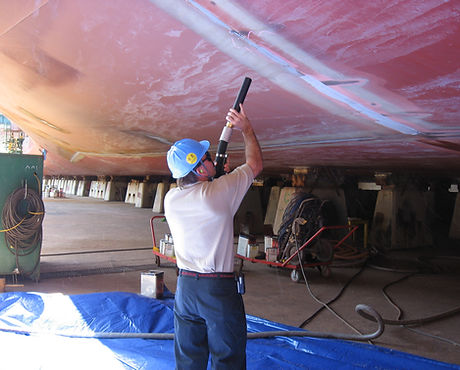 SURFACE PREPARATION
The quality of painting works largely depends on the correct surface preparation. Depending on the surface type and profile requirements, we have a choice of about 20 different abrasives. We create a profile in the range of 0-150 microns.

Sponge-Jet technology makes it possible to remove visible and invisible pollutants and prepare the surface according to industry standards.
SPONGE SPRAY
The unique component of this technology is a sponge with an abrasive inside. The abrasive cleans and creates a profile, and the sponge traps ricochet and dust. Different combinations of sponge and abrasive are suitable for different jobs, which makes sponge spray technology universal and very effective.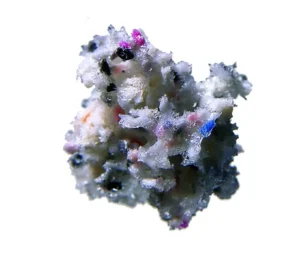 FUNCTIONING OF THE SPONGE SPRAY
At the top is a traditional abrasive which, upon contact with the surface, scatters and pollutes the surroundings. Below is an example of how the sponge captures ricochet and dust. This makes it possible to use a sponge spray where other abrasive cleaning methods are not effective. The use of sponge spray also reduces the impact on health and the environment.
SPONGE SPRAY PROCESS
The abrasive is placed in a sponge spray device, which sprays it onto the surface under pressure. The used abrasive is collected and reused several times using a special recycling device. During such a process, significantly less abrasive is needed than in the case of traditional abrasive blasting.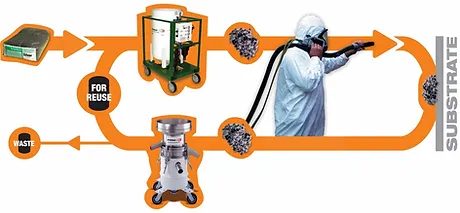 Do you have a project that needs cleaning or surface preparation? Get in touch today and let our experts do the job in the best possible way